Driving Lessons Clonard
FINALLY...THE BEST DRIVING LESSONS Clonard HAS TO OFFER
We think learning to drive should be fun and stress free. We've seen time and time again nerves and fear holding back a students progress. Creating a learning environment like this starts with us and our instructors. To that end we never stop training our instructors to keep them on top of their game. As a student you are only as good as the training you receive and that training has to be catered to your individual needs. Our instructors passion for driving is infectious and aimed at one thing. You, our student, and your safe development into a competent driver.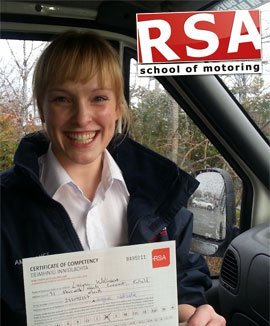 WHY WE SAY WE ARE THE BEST DRIVING SCHOOL IN Clonard
Being a good driving instructor means listening to the needs of the pupil, asking the right questions and responding with the correct remedial action and advice to turn you into an excellent thoughtful driver. Something our instructors are true experts at.
Another thing we see a lot is students coming back for a follow up lesson having forgotten much of what was covered in the lesson before. Which is why we created our own unique training guides and tutorials to support you throughout your driver training.
You will develop your understanding of driving up to 3 times fast with the aid of our home study material. Our extra bonus training will give you the head start all your EDT driving lessons, on road rules and on the driving test. This additional free training material is not offered by any other driving school in Clonard.
Refreshingly Good Driving Lessons in Clonard
When we were in school we all had our favorite teachers, the ones that engaged us and made learning fun. And we can recall the poor teachers that had no business teaching anyone. Not all teachers are made equal and that is no less real with approved driving instructors. It's not as simple as searching 'Driving Lessons Clonard' and picking the first driving school you see. Who can you have faith in to offer you that fun and engaging experience?
You need a driving school with a reputation built on experience and student success. A place where learners are routinely passing their driving test first time.
MEET KEITH
Keith passed his test with us. Round of applause to Keith everyone. Here are some details of his test...this is just a small representation of the detail we go into when helping our pupils pass the test and how our past pupils feel about their experience with us.

Keiths Review
★★★★★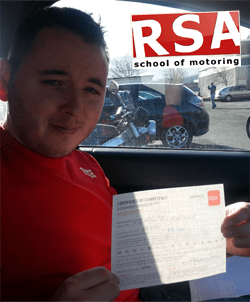 "I contacted RSA School of Motoring a week prior to my driving test and had 2 lessons and also a pre-test on the day of my driving test. The advice I was given and things I learned from RSA is fantastic, I was put right at ease and given great confidence for the test and needless to say I passed!!!! I would highly recommend RSA School of Motoring to anybody applying for their driving test."
View Keiths Google Review
Keith After His Driving Test
Keiths Test Route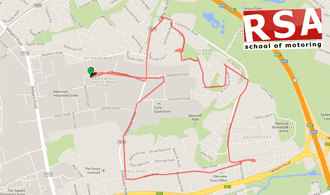 We now have helped hundreds of pupils pass the driving test so before you carry on your search we urge you to consider RSA School of Motoring for your driver training in Clonard. Keep reading to discover why.
More than likely you fall into one of two categories. You are either starting or need to complete your EDT driving lessons. Or you have completed your EDT and have a driving test to prepare for.
Let us start there.
The EDT: What is it?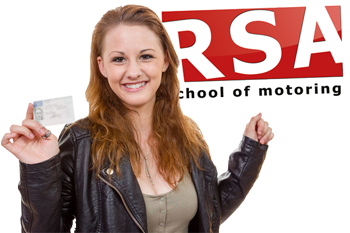 EDT Driving Lessons Clonard
As part of an initiative to improve the poor statistics of young drivers getting killed or injured on our roads the Road Safety Authority introduced the EDT.
The EDT consists of 12 compulsory lessons that must be delivered by a RSA approved driving instructor to all learner drivers.
These 12 lessons were created with the intention of filling in the vital driving skill gaps that young drivers had which were leading to the high level of road accidents occurring each year.
That's the 'whats' and 'whys' of the EDT. For more on the EDT click here
The Test: Crucial preparation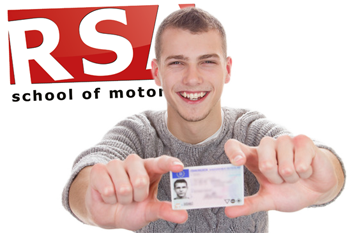 Pretest Driving Lessons Clonard
Training to pass the driving test is completely different from learning to drive. You should already have the vital driving skills and road safety knowledge before applying for the test. Our Clonard pretest driving lessons are designed to show you how to beat the test by understanding the conditions you will be placed under.
If you haven't done any preparation for your driving test the your are in the dark and being in the dark can cause a lot of fears to rise up. Fear can distract even the most experienced of drivers. So it stands to reason that we have to shine a light in the dark, remove the unknowns and the anxiety. And that is precisely what our pretest driving lessons will do.
Our tried and tested pretest training packages have been developed to specifically help you overcome your nerves and come out with a deep understanding on what will happen on test day.
Complete your pretest training with is and not only will you understand all four stages of the driving test, you'll know the potential test routes you may be brought on and you'll know precisely how the tester will speak to you and what they specifically want you to demonstrate.
Read more about our pretest driving lessons here... or call us now to book your pretest package.
Our Meath Instructors cover the following test centres
As well as the obvious we also offer the following:
Gift Vouchers Clonard
The idea of freedom that comes with learning to drive is high on the priority list of any young adult. It can benefit your personal life as well as open doors for employment. Which is precisely why it is the perfect gift idea. Put a big smile on someones face with the gift of driving.
Can I learn in an Automatic Car with your Clonard driving school?
Driving automatic is becoming increasingly more popular and we are happy to say that we can offer all our students automatic driving lessons anywhere in Clonard. Give us a call today and we'll get you booked in with your nearest automatic instructor.
Can I learn to drive with a female driving instructor?
Looking for a female driving instructor for your driving lessons? We can help. We have female driving instructors all over Clonard ready to help you complete your EDT and pass the driving test.
Collection and Drop Off Services
Of course. We understand that young people these days live very busy lives so as part of our service we include free pick up and drop off from your Clonard home, college or place of work*.
We would be proud to help you learn to drive so give us a call now to discuss your driving lesson needs. It will be the best decision you've made in a long time.