Driving Lessons Trim
FINALLY...THE BEST DRIVING LESSONS Trim HAS TO OFFER
At RSA School of Motoring we take a refreshingly different approach to driver training. As our student we want you to have fun during your lessons and stay safe when you drive. Striking this balance is what we are best at. All our instructors are pushed to stay on top of their game so they can deliver driving lessons that bridge the gap between theory and practice and turn our students into thoughtful, safe drivers. That means no stress and no yelling.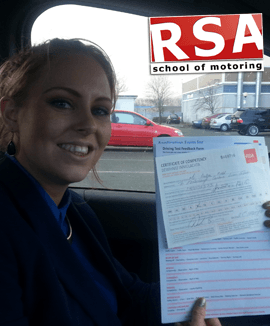 WHY WE SAY WE ARE THE BEST DRIVING SCHOOL IN Trim
Our instructors have been trained to quickly recognise what level you are at, where your bad habits are and what remedial measures should be taken to guarantee you make the most progress possible from each lesson with us.
We have always maintained a focus on a want to give our students more. To help our students with this we have built our own training course to study between lessons to help reinforce what you learn in the car.
This is just one initiative that sets us apart from the competition in Trim. We have seen pupils learn 3-4 times faster with our home study training. This material helps you grasp and understand those tricky areas of driving like roundabouts, night driving and your driving test maneuvers.
Refreshingly Good Driving Lessons in Trim
When we were in school we all had our favorite teachers, the ones that engaged us and made learning fun. And then we had the opposite, those teachers that had no place in the classroom. Not all teachers are made equal and that is no less true with approved driving instructors. It is easy to Google 'Driving Lessons Trim' and find driving instructors near you but which can you trust to best teach you.
You need a driving school with a reputation built on experience and student success. A place where learners are consistently passing their driving test first time.
MEET LUCY
Lucy passed her minibus driving test. After completing our minibus training course she flew through the hour long test!

Lucy's Review
★★★★★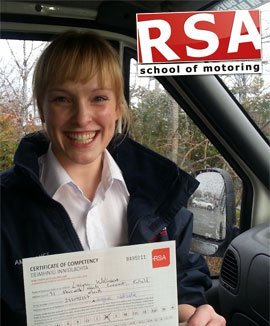 "I'm feeling really good after passing my minibus driving test. The training I recieved from RSA School of Motoring made it all possible. The routes we covered during the lessons where the exact same as those on the test. It showes because I only got two marks. I can now advance myself at work which is fantastic."
View More Google Reviews
Lucy After Her Driving Test
Lucy's Certificate of Competency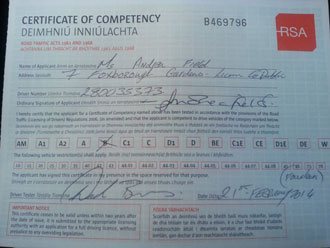 We now have helped hundreds of learners pass the driving test so before you continue your search we encourage you to consider RSA School of Motoring for your driver training in Trim. Let us explain to you why.
Most of our students fall under one of the following. You have an imminent driving test coming up or you want to start preparing for one before you book. Or you are a total beginner and need to start or finish off your Essential Driver Training.
What's the difference?
Essential Driver Training: The facts?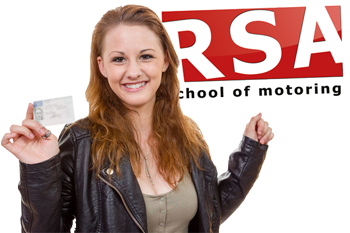 EDT Driving Lessons Trim
As part of an initiative to improve the poor statistics of young drivers getting killed or injured on our roads the Road Safety Authority introduced the Essential Driver Training Syllabus.
The EDT consists of 12 compulsory lessons that must be delivered by a RSA approved driving instructor to all learner drivers.
These 12 lessons were created with the intention of filling in the vital driving skill gaps that young drivers had which were leading to the high level of road accidents occurring each year.
Want to know more about how the EDT works? For more on the EDT click here
Getting yourself ready for the Test in Trim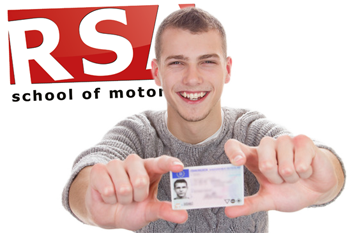 Pretest Driving Lessons Trim
Training to pass the driving test is completely different from learning to drive. You should already have the vital driving skills and road safety knowledge before applying for the test. Our Trim pretest driving lessons are designed to show you how to beat the test by understanding the conditions you will be placed under.
If you have to prepare for the driving test then your head is probably a wash with different emotions. We naturally fear what we don't understand and the unknown. Well fear not.
Our tried and tested pretest training packages have been developed to specifically help you overcome your nerves and come out with a deep understanding on what will happen on test day.
Complete your pretest training with is and not only will you fully grasp all four stages of the driving test, you'll know the possible test routes you may be brought on and you'll know exactly how the tester will speak to you and what they specifically want you to demonstrate.
Read more about our pretest driving lessons here... or call us now to book your pretest package.
Our Meath Instructors cover the following test centres
As well as the obvious we also offer the following:
Do you offer Driving Lesson Gift Vouchers in Trim?
Yes. And believe us for a young person that is dying to gain their independence there is no better gift. Make someones day extra special with a Driving School Gift Voucher from RSA School of Motoring.
Learn to Drive in an Automatic
If you want to learn to driving an automatic in Trim then you're not alone and we can help. Book your automatic driving lessons with us today.
Can I book with Female Driving Instructor?
Looking for a female driving instructor for your driving lessons? We can help. You can take your essential driver training or pretest lessons with one of our female driving instructors. Just give us a call to book in.
Collection and Drop Off Services
Yes. We aspire to make your driving lesson experience as convenient and easy as it can be. Which means we will come to your home or place of work* to start each driving lesson.
Teaching you to drive would be our absolute pleasure. Go on... give us a call now and let's get you booked in for your Trim driving lessons today. You'll glad you did.